Tuition
Are you ready to invest in your child's future?
An affordable Christian education is just a phone call away. The cost of Northside Christian School is as much as 35% less than other area private schools. We provide exceptional value to working parents with the option of full day programs for K4 and K5 as well as morning and afternoon latchkey.
NCS provides a lot to the students and families at an affordable rate. When looking at other private schools NCS goes above and beyond to keep tuition and fees affordable! — NCS Parent
I feel the value of my son's education is priceless at Northside. The fact that the tuition is relatively affordable is extremely appreciated by our family — NCS Parent
Visit our Admissions page to start your enrollment. Call (614) 882-1493 today to schedule a visit with Principal Jesse Stout. If you would like us to contact you with more information, please fill out our Prospective Student Form.
Preschool Tuition
2020/2021 Preschool Tuition Schedule

Elementary / Middle / High School Tuition
2020/2021 Elementary/ Middle / High School Tuition Schedule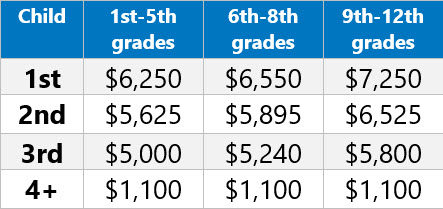 *Only full-time students are eligible to be included in multiple child discounts.
Other Fees
Facility Fee - $100 per student in all grade levels. Used for costs related to on-going capital improvements including funding for the recently completed Campbell Building.
Class Fees - $250 per Student in all grade levels. Covers the costs of consummable items (workbooks, yearbooks, music), many student activities (field trips, fine arts productions, retreats, special assemblies, student admission to all home games) and other resources (code.org, office365, CCP textbooks).
Sports Fees- TBD. Per Athlete per sport. Will be determined later in Spring 2020, the 2019-20 schedule for Fall/Winter Sports was $160 per athlete per sport. Billed after each sports season.
Tuition Payment Details
Those choosing to pay in one‐lump‐sum are entitled to a 2% discount on total annual tution. This payment is due by 8/10/2020.
Each family is required to set up a payment plan and make tuition payments via the FACTS Management Company website. No exceptions.
No student will be permitted to start school without a completed August payment and enrollment fees paid.
For 2020‐21, all FACTs payment plans must be configured so that payments are completed by the 10th day of the month.
Note:
No student will be permitted to start school without a payment plan set up in FACTs or the annual lump sum payed in full.
All families will be asked to agree to and sign a Financial Responsibility Agreement upon enrollment.