Tuition
Preschool Tuition
2019/2020 Preschool Tuition Schedule
| | | |
| --- | --- | --- |
| | K4 | K5 |
| 3 Half Days (M, W, F) | $2810 | N/A |
| 3 Full Days (M, W, F) | $3770 | N/A |
| 5 Half Days | $3600 | $3870 |
| 5 Full Days | $5400 | $5590 |
| Occasional After-care Option (12:10 - 3:30) | $15/day | $15/day |
Elementary / Middle / High School Tuition
2019/2020 Elementary/ Middle / High School Tuition Schedule
Child
K4 - 3 Half Days (M, W, F)

K4 - 3 Full Days

K4 -Five Half Days
K4 - 5 Full Days
K5 - Half Day
K5 - Full Day
1st - 5

th

6

th - 8th
9th - 12th
1st
$2810
$3770
$3600
$5400
$3870
$5590
$6100
$6300
$6900
2nd
$2529
$3393
$3240
$4860
$3450
$5031
$5490
$5670
$6210
3rd
$2248
$3016
$2880
$4320
$2860
$4472
$4880
$5040
$5520
4+
$1100
$1100
$1100
$1100
$1100
$1100
$1100
$1100
$1100
Other Fees
Facilty Fee - $100 Per student billed in Fall Semester. Used for costs related to on‐going capital improvements including funding for the new Campbell Building.
Class Fees - TBD. Class fees are calculated based on specific costs related to a student's schedule. In 2018‐19, the range was $195‐$295 per student. Billed in Fall Semester
Sports Fees- TBD. Sports fees will be determined later in Spring 2019, the 2018‐19 Fall/Winter Sports Fee was $150 per athlete, Billed after each sports season.
Tuition Payment Details
Those choosing to pay in one‐lump‐sum are entitled to a 2% discount on total annual tution. This payment is due by 8/10/2019.
Each family is required to set up a payment plan and make tuition payments via the FACTS Management Company website. No exceptions.
No student will be permitted to start school without a completed August payment and enrollment fees paid.
For 2019‐20, all FACTs payment plans must be configured so that payments are completed by the 10th day of the month.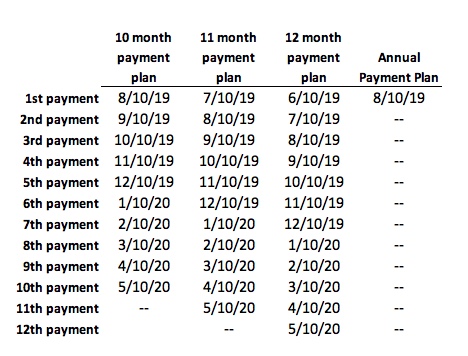 Note:
No student will be permitted to start school without a payment plan set up in FACTs or the annual lump sum payed in full.
All families will be asked to agree to and sign a Financial Responsibility Agreement upon enrollment.